Seamless Gutters
---
Golden Hammer Gutters has been a 5-Star Gutter Company since 1985.

Request a Free Gutter Estimate
Seamless Gutters Installation
Need seamless gutters for your home or business? Whether you need your gutters repaired or want gutter replacement, Golden Hammer Gutters in Jacksonville will help you assess your options. When you discover problems with your Seamless Gutters in Jacksonville, Golden Hammer Gutters is here to solve any gutter or roofing issues in a professional manner and with the highest level of customer service in the industry. Golden Hammer Gutters is the best Gutter Service in Jacksonville.
What are Seamless Gutters? Seamless gutters are also known as continuous gutters meaning they have not been cut into smaller sections and joined together requiring the joints to be sealed together. Seamless gutters have been manufactured and fabricated from a single piece of material such as aluminum or copper. Continuous gutters or seamless gutters are resistant to leaks, longer-lasting, and lower-maintenance compared to seamed gutters.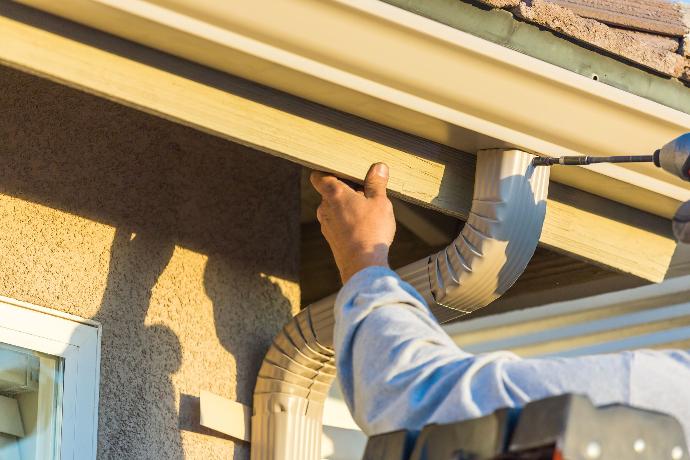 Golden Hammer Gutters is a preferred seamless gutters service in Jacksonville because Seamless Gutters Installation is our specialty. We will provide you a Specific Service Date and Time Frame for every one of our rain gutter services. You are Never Required to be present for our services to be completed so there is no need to miss work. Unfortunately, most of our gutter service competitors do not meet this standard of service. We will also provide play-by-play service reminders which will be sent directly to you via text message and email. These reminders will notify you one week prior to your upcoming service, 3 days prior to your service date, whenever the crew is on the way to your property, at the start of your service, and when the job has been completed.

---
Seamless Gutters Guarantee's
Golden Hammer Gutters include an unmatched 60-Day No-Clog Guarantee and our Satisfaction Guarantee with every gutter cleaning service. We do not require contracts and you can cancel our service at any time.
We provide a 5-Year Workmanship Guarantee for all Seamless Gutters Installation, Rain Gutter Repairs, & Gutter Guards Installation because we do not use any sub-contractors for any of our gutter services.

Why Golden Hammer Gutters is the very
best choice for your Gutter Cleaning needs?
---
Golden Hammer 60-Day No-Clog Guarantee

Golden Hammer Satisfaction Guarantee

Seamless Gutters & Roofing Experts

Proudly Serving Florida for over 30 Years


No Contract Required

No Cancellation Fees

Job Photos Provided

Specific Service Dates & Arrival Timeframes

Automated Notification Alerts & Reminders

Set prices that wont be increased upon arrival

No Hidden Fee's or Fine Print

No Sub-Contractors
Seamless Gutters Cleaning Cost
$85.00 - 2-story Townhouse
---
$105.00 - 3-story townhouse
---
$125.00 - SFH up to 1000 sq. ft.
---
$145.00 - SFH up to 2000 sq. ft.
---
$165.00 - SFH up to 3000 sq. ft.
---
$225.00 - SFH up to 4000 sq. ft.
---
$285.00 - SFH up to 5000 sq. ft.
1 Cleanings per year

10% OFF Automated Cleaning Client's
---
2 Cleanings per year

10% OFF Every gutter cleaning service
---
3 Cleanings per year

15% OFF Third gutter cleaning service
---
4 Cleanings per year

20% OFF Fourth gutter cleaning service
Seamless Gutters Cleaning Discounts
You will receive at least 10% OFF every seamless gutters cleaning service and your rate will be locked-in permanently. This means, year after year, your gutter cleaning maintenance costs will never increase. If you need more than 2 cleanings per year, we will automatically increase your gutter cleaning discount to 15% OFF on your third gutter cleaning service.
If you have a heavy tree coverage around your home and needed a fourth gutter cleaning within one-year, then we will automatically increase your discount to 20% every gutter cleaning service going forward for as long as you need four gutter cleanings per year.
Seasonal
Gutters Cleaning
Golden Hammer Gutters offers automatic yearly gutter cleaning that will repeat whenever you want them too. It's just that simple! Set the seasons or dates that you would like your seamless gutters cleaning services to repeat, and we'll take care of the rest. Remember that there is no contract required and you can cancel this service at any time.

Our system will automatically reschedule the seamless gutters cleaning services for you every year. All your pricing and discounts will remain locked in permanently. Per usual, we always guarantee No-Clogs for 60-Days with every gutter cleaning service.

You will always receive the normal service reminders. Our system automatically sends out notification emails and text messages to remind you one week before any upcoming gutter cleaning services and once again 3 days prior to every service, as well as a day of reminder with an estimated time of arrival. All's you have to do is decide when you want to have your rain gutters cleaned and we can also help out by making recommendations for the optimal times of the year to have the debris removed.

This is a pay as you go service, so payments are never due until after the service is completed. We'll simply email you an invoice with all job-related photos attached once the job is finished. Our technicians will also provide a complimentary review of your entire roof, and even take photos if they see anything notable up there.
Seamless Gutters Services
Gutter Guards
Installation Service