Automatic Gutter Cleaning
Automatic Gutter Cleaning Service

Automatic Gutter Cleaning Service aka seasonal gutter cleaning in Jacksonville can help gutter systems to work effectively and allows our pros to regularly inspect your gutter and roofing systems. Tired of checking on your rain gutters year after year, and then worrying about scheduling? Golden Hammer Gutters Automatic Gutter Cleaning is the solution. We offer a yearly recurring gutter cleaning service that will automatically repeat whenever you need them to.
Automatic Gutter Cleaning simply means that you pick the dates that you would like your Seasonal Gutter Cleaning Services to repeat every year and we'll handle the rest. You'll receive automated reminders before every cleaning service, just in case you need to reschedule, and so you never forget. You can also cancel the service at any point without any cancellation fee. We also provide 10% OFF any Gutter Repairs for all Automatic Gutter Cleaning Clients and preferred pricing for any Seamless Gutter Installation projects.

Seasonal Gutter Cleaning Cost
---
$85.00 - 2-story Townhouse
---
$105.00 - 3-story townhouse
---
$125.00 - SFH up to 1000 sq. ft.
---
$145.00 - SFH up to 2000 sq. ft.
---
$165.00 - SFH up to 3000 sq. ft.
---
$225.00 - SFH up to 4000 sq. ft.
---
$285.00 - SFH up to 5000 sq. ft.
1 Cleanings per year

10% OFF Automated Cleaning Client's
---
2 Cleanings per year

10% OFF Every gutter cleaning service
---
3 Cleanings per year

15% OFF Every gutter cleaning service
---
4 Cleanings per year

20% OFF Every gutter cleaning service
No Hidden Fees or Fine Print
There are no hidden fees or fine print with our automatic gutter cleaning service. If you need at least one cleaning per year, there is no reason not to set it to automatically repeat every year. There are no contracts required and no cancellation fees. Golden Hammer Gutters will simply make sure that you never miss out on getting your gutters serviced when they need it.
---
Golden Hammer Gutter Cleaning Discounts
When you schedule a recurring gutter cleaning services you will automatically earn a 10% discount on that initial cleaning and each subsequent visit which is permanently applied to your account. We lock in this discount AND price, which means that your gutter cleaning maintenance costs will never increase, even years down the road. If you happen to need more than two cleanings per year, we will subsequently increase your service discount to 15% off beginning with your 3rd appointment. Some homes with heavy tree coverage may require a 4th gutter cleaning within the year; in this case the service discount increases again to 20% off each gutter cleaning service you may need going forward for as long as you need 4 visits. Never a contract and you can cancel at any time.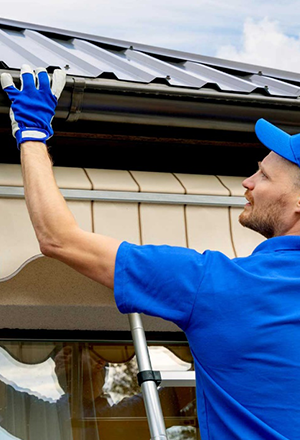 Jacksonville's #1 Gutter Cleaning Company


Automatic Gutter Cleaning is Golden Hammer Gutters specialty, and we just happen to be Jacksonville's favorite gutter service provider. We effectively and consistently deliver professional gutter cleaning services. You can expect to be satisfied every time because we guarantee all our work. In fact, your presence is NEVER required for any of our services to be completed so there's no need to miss work. We provide play by play confirmations, notifications, and reminders at every turn.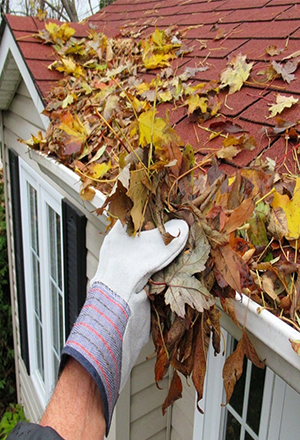 Automatic Gutter Cleaning Service Includes:
Golden Hammer's Satisfaction Guarantee

Golden Hammer's 60-Day No-Clog Guarantee

No Contract Required

No Cancellation Fees

Specific service date and arrival time-frame

Complementary pictures of the cleaned gutters

Set price that won't be increased by hidden fees

Hand-bagging of debris & removal from your property

Debris removed from all gutter & downspouts

Debris removed from all roofing valley's

Tapping in any loose gutter spikes around the entire home

Detailed feedback regarding gutter and roofing conditions

Free Roof Inspection including pictures when necessary

Hourly employees only - No Subcontractors
Scheduling Automatic Gutter Cleaning
You can easily and conveniently schedule your Automatic Gutter Cleaning by simply fillin​g out the form below. After completing the form our office staff will review the information, set you into our system, and cross check your desired service dates with our availability. Once your Gutter Cleaning service has been scheduled, we will send you email and text message confirmations for your date of service.

Cancel Or Reschedule Anytime
---

If there is a conflict with your service date, you can either give us a call or email us and we will reschedule your service to another available service date.

Keep in mind that your presence is NEVER required for any of our services to be completed, however you can cancel or reschedule your service at any time.

No Contract is required, and we never charge a cancellation fee.

Notifications And Service Reminders

Once your confirmation notifications have been received that means you are officially set up in our automated system. No further action is required by you beyond that point. You will be reminded via email one week prior to your service date and then again just 3-days before your service date. On the day of service you will be notified via text message when the crew is on the way to your property. You will also receive a text message when the crew starts and finishes the Gutter Cleaning service.
Feedback And Complimentary Job Photos

The gutter cleaning crew will leave a paper notice on the front door letting you know that they were there which will include job details, feedback, recommendations, gutter conditions, and roof conditions. The crew leader will upload all job-related photos, including complimentary cleaned-gutter photos, into our system which will all be attached to the invoice and emailed to you. Invoices and job-related photos are typically processed and emailed within 24-hours of the completed job.
Complimentary Roof Inspection

Every Automatic Gutter Cleaning service includes a complimentary roofing inspection performed by our gutter technicians. They are not certified roofers, but they understand what to look for and they know when something doesn't look right. If they notice something wrong, they will take additional photos, notes, and even measurements if need be. All these details will be forwarded to our roofing department, they will be able to make a professional assessment and follow-up on any pertinent issues.
Gutter Repairs
Automated Gutter Cleaning Clients will receive 10% OFF all Gutter Repairs.
Gutter Installation
Automated Gutter Cleaning Clients are applicable for preferred pricing for all Seamless Gutter Installation projects.
Additional Services

Gutter & Downspout Repairs

Gutter Installation

Roofing Repairs

Roofing Installation

Wood Repairs

Drip-Edge & Splash Guard Installation

Roof Debris Removal / Skylight Cleaning

Gutter Guard Installation and/or Removal