Gutter Repair

---
Golden Hammer Gutters has been a 5-Star Gutter Company since 1985.

Request a Free Gutter Repair Estimate
Gutter Repair Jacksonville, FL
Gutter Repair Jacksonville, FL is much less costly than gutter replacement and is often the preferable solution to many gutter issues. Are your gutters causing problems or not working properly? You may need a simple rain gutter repair to have your gutters functioning properly again. Many gutter companies lead homeowners to believe their gutter system needs to be replaced over small issues. Repairing gutters is always an option worth exploring.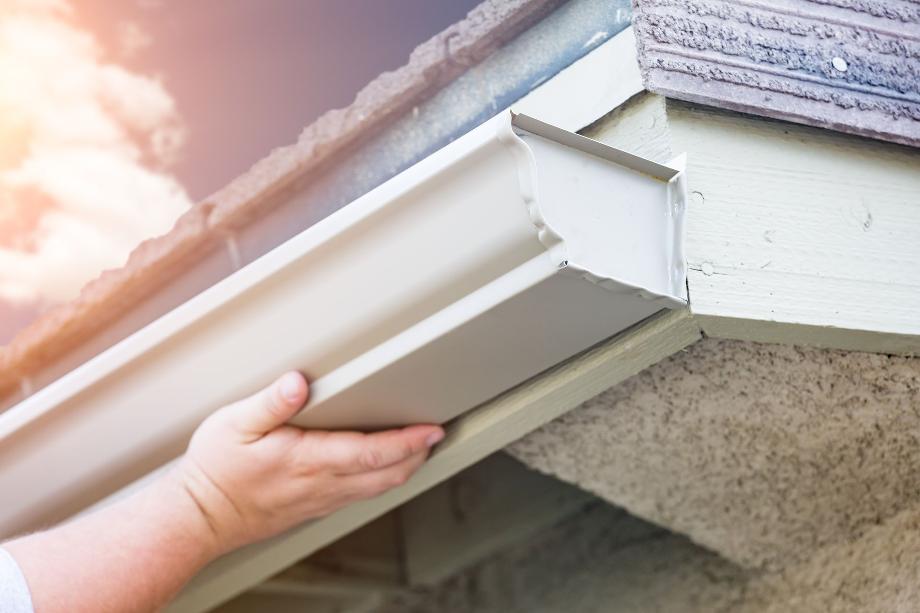 Over-flowing Gutter Repair
Chances are your gutters or downspouts could just be clogged. We always suggest to our customers to observe their gutters and downspouts during rain. If there is little to no water dispensing through the bottom downspout, then that downspout is clogged, and you may just simply need a gutter cleaning. You may also need some gutter repairs, but it is always best to diagnose your gutter repair after they have been cleaned properly. It's always cheaper to have the gutters cleaned than to have the gutters repaired.

Gutter Cleaning Maintenance
Almost all problems with gutters come from not having your gutters cleaned regularly. When debris blocks up the gutter systems, all types of problems start to occur.
Neglecting your gutters can lead to a lot of different problems and these problems can eventually result in costly repairs. One of the best things you can do for your gutters, is to have gutter cleaning service performed at the end of fall every year. If debris are not removed, the debris will eventually clog up the downspouts. Once the downspouts are clogged the gutters will accumulate heavy amounts of water and over time this will loosen the gutter systems and their fasteners.

Water Damage
Damaged gutters can cause serious harm to the home's foundation, interior walls, window frames, siding, and wood trim.
The entire purpose of the gutter system is to collect the water that is shed from the roofing surface and to move it away from the home's foundation. When rainwater is able to travels behind the gutter systems, leaks from the seams, or pours over the edges, it can cause deterioration to the home in many different ways. Golden Hammer Gutters has the experience needed to diagnose gutter problems and to solve them in a cost-effective manner.

Gutter Repair Services:
Re-secure Loose gutters

Correct Gutter Pitch/Slope

Downspout Repair/Replacement

Re-seal Leaky Gutters

Fascia Board Repair/Replacement

Drip Edge Repair/Replacement

Splash Guard Installation

Downspout Configuration or Re-location

Upgrade Gutter Spikes to Heavy-Duty Brackets

Downspout Accessory Replacement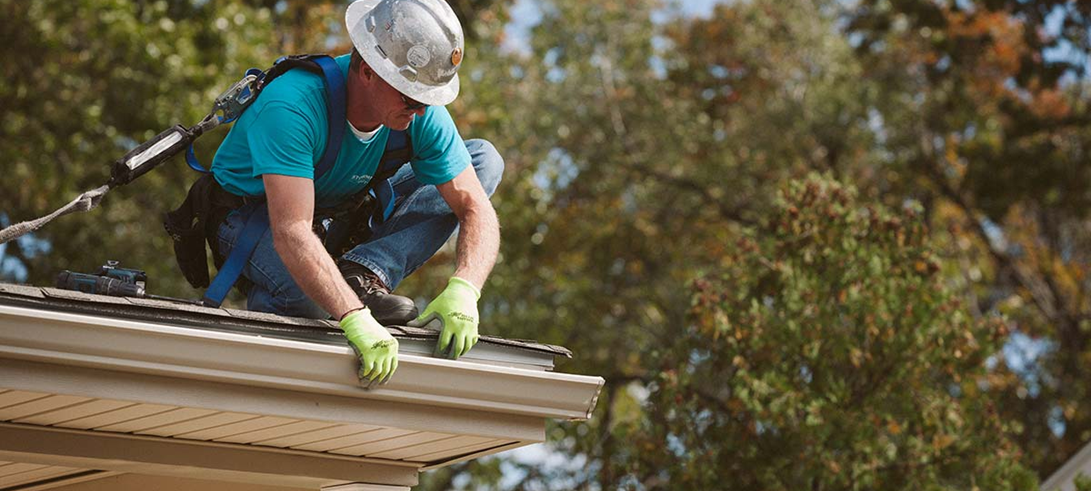 Re-secure Loose Gutter Repair
The most common gutter repair is fixing loose gutters. There are many signs that a gutter has come loose which makes this gutter repair easily identifiable by homeowners.
Gutter spikes sticking out, visibly sagging gutter, or gaps between the gutter and the wall are all obvious signs that the gutter has come loose and needs to be tightened up or re-secured to the home. Golden Hammer Gutters only use heavy duty screw in style hidden hangers for all gutter repairs and installations. Therefore, the gutters will not come loose again.
Re-pitch Gutter Repair
The second most common gutter repair that we come across is when a gutter is pitched incorrectly. All gutters are supposed to be pitched towards the downspouts. What this means is the gutters were installed on a slope so that water automatically drains towards the downspout. However, when the gutter pitch is off then the water is not able to drain properly. Gutters overflowing from the end of the gutter opposite the downspout or in the middle of a gutter run is an indication that the gutter is sloped incorrectly or that it is holding water. We use the same heavy duty hidden hangers to re-pitch gutters as we use to re-secure the gutters and to install new seamless gutters. Essentially, once we reset the gutters to the correct slope they aren't going anywhere.
Downspout Repair
The downspout is the vertical pipe that comes from the gutter and carries the water from the gutters to the ground. Over time the brackets that mount the downspout to the wall can come loose which may cause the downspout to hang loose or even fall. Downspouts can often come loose or disconnected with high winds, or even from somebody bumping into them. When this happens, the downspout needs to be re-secured with new hardware and sometimes even new downspout straps. We can re-secure, re-configure, or replace your downspouts on just about any style exterior wall. Keep in mind that if your downspout becomes dented or crimped that there is no repair, you must replace it. If the downspout is dented to the point that flow is restricted or that obstructions can easily get caught, it needs to be replaced. We also often suggest to homeowners to extend upper downspouts that drain onto lower roofing surfaces directly into the lower gutter system. Extending the downspouts keeps the water contained and saves your roof from excessive wear and tear caused by upper-level downspouts.
Leaky Gutter Repair
There are a few types of gutter leaks that can all mean different things. For example, water leaking, dripping, or overflowing near a downspout often indicates a clogged downspout. While water leaking from a gutter corner usually indicates a bad seal and even potential gutter pitch/slope issues. Identifying what is causing the leaks often requires an examination of the gutter system. When a corner leaks, it means the sealant has failed. However, usually there is a cause for the sealant to fail in one area and not the entire home. The most common cause is when the gutters are not pitched correctly. Water sitting in the gutters from not being able to drain eats through the sealant and causes the sealant to deteriorate and eventually fail.
Miter Repair/Replacement
Anytime two separate sections of gutter come together to form a corner an aluminum miter is used to bridge the gap. All miters are sealed with waterproof sealant to prevent the water from leaking. The problem with miter seals is that over time the sealant wears out and fails. Once the sealant fails then the water will leak from the area every time it rains. We can re-seal your existing miters that are leaking during a gutter cleaning service or as a separate repair service. In certain situations, the miters may even need to be replaced. There are times when miters are beyond repair, and they need to be replaced. Anytime there is a bend, tear, or fold in any component of the gutter system the piece more than likely needs to be replaced.
Fascia Board Repair/Replacement
The wood that your gutters are mounted to around the home is called fascia board. Over time this wood will rot and get soft. Once this happens it can't support the weight of the gutters and the gutters get loose. If not taken care of the gutters can fall or blow off the home. Or even worse, the gutters could pull the fascia board right off the home. The only solution to rotted or damaged fascia board, is to replace the section with new fascia board or rake board.