​

Gutter Installation
---
Golden Hammer Gutters has been a 5-Star Gutter Company since 1985.

Request a Free Gutter Installation Estimate
Gutter Installation
The main function or purpose for gutter installation is to collect rain water as it sheds off of the roofing surfaces and to channel the rainwater away from the structural foundation instead of having the water splashing down the side of the property, washing away the critical soil built-up around your home. For all our Gutter Installation projects, w e pride ourselves in providing only the highest quality products available.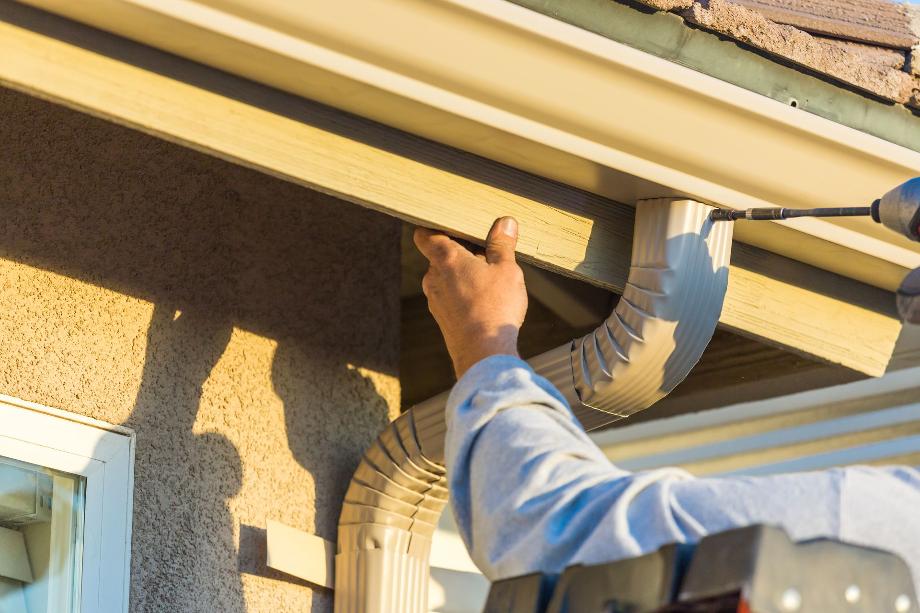 K-Style Gutter Installation Service
Rain Gutter Installation service is critical to the protection of your home and the most common style of rain gutter is the k-style seamless gutter. It is designed to complement the exterior of modern homes by resembling crown molding. K-style seamless gutter performs better than half-round gutters in every way. K-style seamless gutter is stronger and more durable. They can handle more water than the half-round style. Because they are stronger and more effective, which is why they are the industry standard.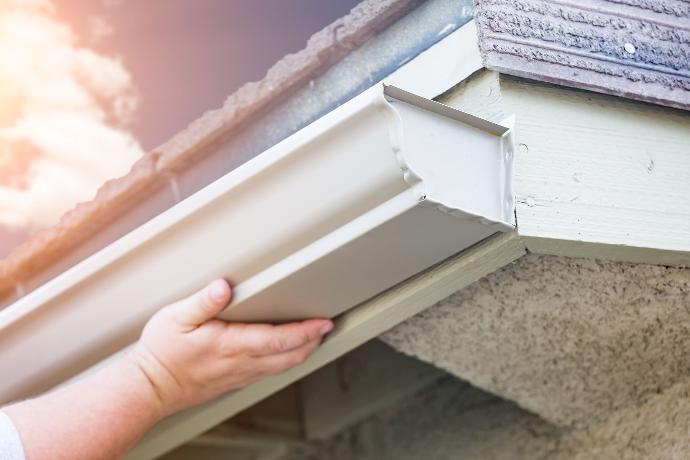 Aluminum Gutter Installation Color Chart
This color chart represents some of the aluminum gutters colors that we offer. The color of the aluminum gutter does not affect the price of your gutter installation service. https://senox.com/colors/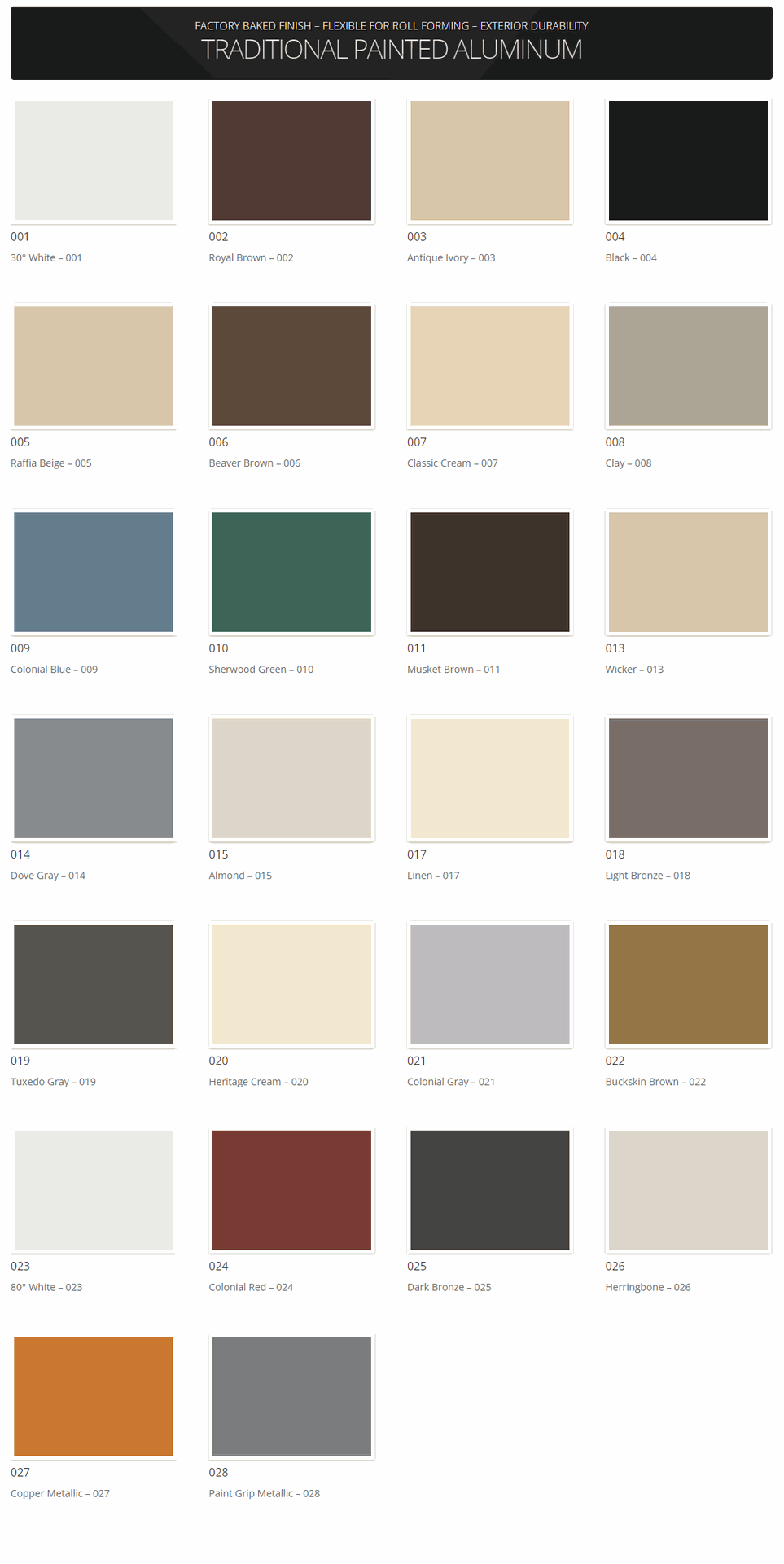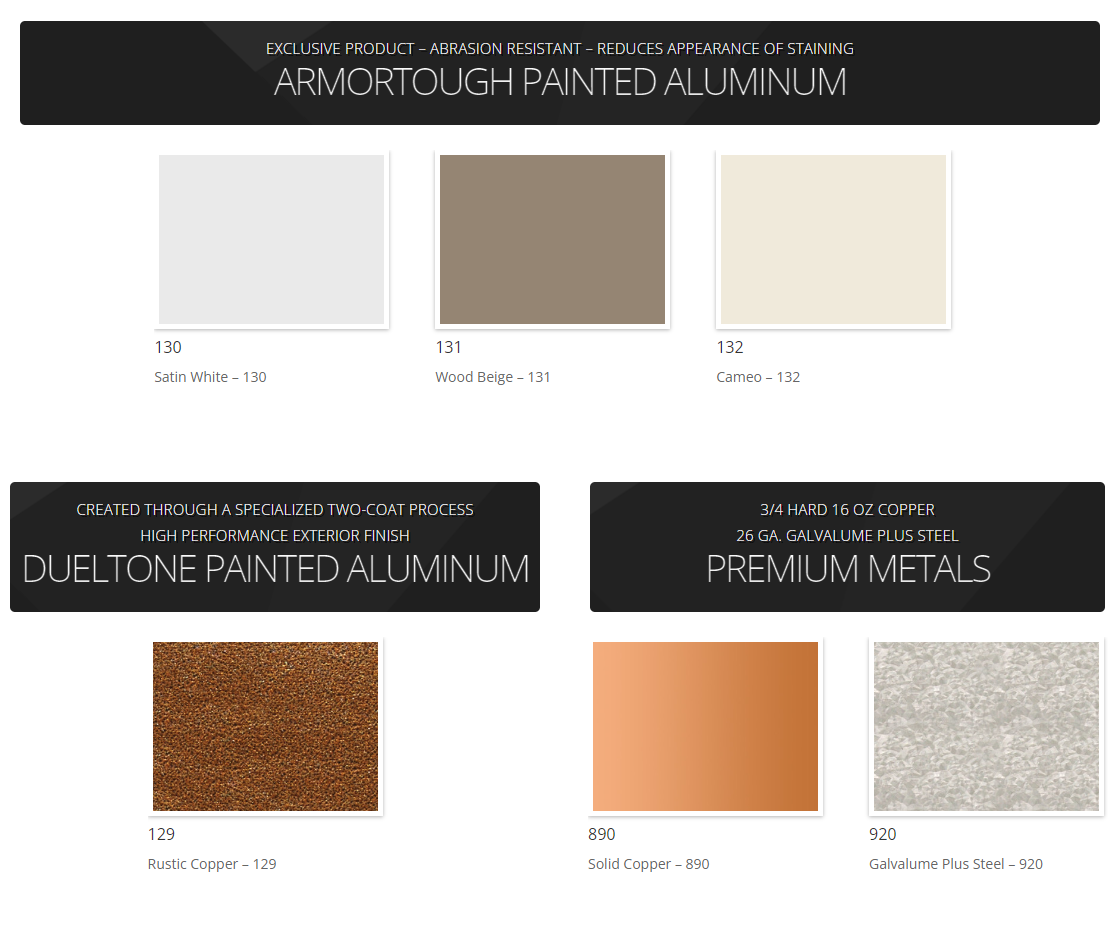 Gutter Installation
with Gutter Guards
Golden Hammer Gutters recommends and installs Perforated Aluminum Gutter Guard, aka Leaf Guards, because they are the most cost-effective way to keep your gutter installation systems from clogging up internally. Perforated Aluminum Gutter Guards, aka Leaf Guards, are moderately priced compared to other gutter guards such as solid gutter covers, aka Gutter Helmets. These solid gutter covers may do a great job at keeping debris out of the gutter systems however they are terribly expensive, and they perform very poorly during moderate to heavy rains.
During moderate to heavy rains, you will often see the water cascading over the solid gutter covers like a waterfall effect which contradicts the entire purpose of having gutter installation in the first place.
The surface of the Perforated Aluminum Gutter Guards is smooth so you can expect debris that roll down the roof and rest on top of the gutter guards to easily blow off during a light breeze. Unlike micro-mesh screens the smooth surface of the Perforated Aluminum Gutter Guards can be easily cleaned off with a broom if a debris accumulation does occur on top of the gutter guards.
Do Gutter Guards Work? Should I Invest?
Do gutter guards work? Yes, most gutter guards work, but depending on the slope of the roof, type of roofing material, trees in the area, and amount of rain, some types of gutter guards may not be suitable for your home. Some gutter guards will prevent debris from entering the gutter systems more effectively than others, but no gutter guard is absolutely maintenance free. In other words, no gutter guard can entirely ensure that your gutters will never become clogged. However, choosing a decent gutter guard will significantly decrease the frequency of necessary gutter cleaning or overall gutter maintenance required and reduce the possibility of harm to your home caused by clogged gutters. Each style of gutter guard type has its own advantages and disadvantages, and this article offers a breakdown of the most popular gutter cover styles, highlighting their benefits and drawbacks.

The entire purpose of gutters is to collect the rainwater that is shed from your roofing surface, redirect that water, and ultimately disperse it away from your home's foundation. This process prevents dirty roofing water from running down the sides of your home and/or splashing down onto the ground eventually eroding the soil around your home's supportive foundation. Therefore, the effectiveness of gutter guards is often disputed, and so the question remains, do gutter guards work? The short answer is yes, but the long answer is that it depends on the type of gutter guard that you are having installed onto your gutters and your overall expectations. Read More...
Aluminum Downspout Installation
Golden Hammer Gutters can replace your existing downspouts with larger sized downspouts. When it comes to clogs in your downspouts, the obstructions always begin at the elbow juncture. Having larger downspouts with wider elbows makes it less likely for debris to become stuck inside.
Adding additional downspouts to your existing gutters is also an option. Perhaps you have a long run of gutter that doesn't seem to handle the heavy volumes of water. Most of the time you can simply add an additional downspout to solve this problem. An additional downspout would serve to relieve the pressure and spread the water to separate drainage points. Depending on the pitch or slope of the existing gutter, this solution may include re-pitching the gutter to ensure that the water drains towards the new downspout.
Aluminum Splash Guard Installation
Aluminum Splash Guards can be installed to problem areas where water seems to travel right over the gutters. The most common areas where splash guards are needed is below roofing valleys. These valley's carry higher volumes of water and this can overwhelm the corner of a gutter system especially during moderate to heavy rains. If you have an upper gutter system that drains onto a lower roofing surface this can also cause heavy flows of water to be directed at a single point of a lower gutter system. This can cause water to splash over top of the rim of the lower gutter. We typically recommend having that upper downspout be connected directly into the lower gutter system using a downspout extension pipe, however a splash guard can also be used in these situations to prevent the splash over effect.
Aluminum Drip-Edge Extender Installation
One of the most important components of your roofing and gutter systems is the drip edge. It is tucked under the roofing surface on the eve of your roof and bridges the gap between the roofing deck and the gutter. Drip-edge prevents water from traveling behind the gutter system where it could potentially damage the interior walls, exterior wood trim, and/or siding components of the home. Sometimes the existing drip-edge needs to be extended slightly to force water to drip into the gutter and to prevent it from traveling behind the gutter.
Aluminum Downspout Extensions
Depending on the layout of your landscape, sometimes it is necessary to extend the downspout further out into the flower bed, yard, or possibly around a corner or an air-conditioner unit perhaps. Whatever the case may be, our experts can prevent this from being a problem. Maybe you need to extend your upper-level downspout directly into your lower-level gutter system so that the water does not overwhelm the lower gutter system. We understand how to avoid and/or fix these common drainage issues. If you are experiencing some of these type of drainage concerns, send us a picture today because we can diagnose many of these problems right over the phone.
Fascia Board or Rake Board Installation
The trim board that your gutters are mounted to are called "Fascia Boards". This wood will often need to be replaced every 20-30 years depending on how well your gutters are maintained and how much water gets behind the gutters. There is typically no repair for damaged or rotted fascia board. If it is damaged, it needs to be replaced so that the gutters remain secured to the home and are strong enough to handle the weight of heavy rainwater. Rotten fascia board is often not noticed until the gutters are removed from the home. When we discover damaged fascia board, we will always bring this to the homeowners attention because it is never a good idea to attach new gutters to rotten wood. In most cases, we can get the necessary wood on the same day and then replace the damaged fascia board so that we can complete the gutter installation process without delay.
Aluminum Miter Installation
Gutter Miters are aluminum sleeves used to bridge the gap between two seamless sections of gutter which allows for gutter systems to go around corners. These corner sleeves are sealed using a commercial grade waterproof sealant which prevents the gutter corners from leaking.
Gutter Installation
Estimate Form