Metal Roofing Contractor
Golden Hammer Roofing and Gutters is a reliable metal roofing contractor. We are a member of a nationwide network of metal roofing contractors that delivers factory-guaranteed metal roofing systems to homeowners and business owners. Unlike many roofers in Jacksonville who offer a variety of roofing options such as shingle or Modified Bitumen, we specialize in metal roofing. Our team of skilled metal roof installers are well-versed in the complexities of installing metal roofing panels.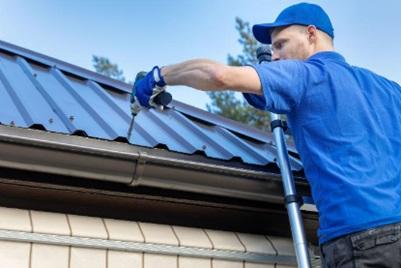 Golden Hammer Roofing – Preferred Metal Roofing Contractor Jacksonville, FL
Expect us to offer you superior metal roofing panels, do a great job and provide you with the highest level of support to make your new roof last longer. Our team of installers consists of certified roofing experts who possess extensive experience in the industry. They exhibit meticulousness and utilize the finest roofing methods and tools for the installation of your flat roof or metal roof. Contact us at (904) 880-2004 to arrange an appointment or home visit promptly.
Metal Roofing Installation
If you are in the process of constructing a new home, consider the benefits of using aluminum roofing. Not only does it add durability to your home, but it also provides an appealing aesthetic. At Golden Hammer Roofing, we offer a wide range of styles and colors to choose from. By opting for aluminum roofing, you can enjoy a maintenance-free roof that could last a lifetime. As a reputable metal roofing contractor, we have extensive knowledge and expertise in installing Galvalume and aluminum roofs. We are so confident in the quality of our products that we provide contractor warranties for all our house roofing projects in Jacksonville. To learn more, contact our team in Jacksonville, Florida by calling (904) 880-2004 or filling out our online form. We will promptly respond to your requests.
Benefits of Metal Roofing Installation
Metal roofs are not just substitutes for traditional roofing materials such as bitumen and shingles anymore. They have demonstrated their superiority as an excellent option for residential roofing because of their exceptional characteristics. Explore the advantages of installing metal roofs on your home.
Strength : Metal roofing doesn't split, crack, rot or warp. Because of their high-strength steel panel configuration and panel size, metal roofs can enhance the structural integrity of your roofing system in a way other roofing materials won't.
Aesthetics : Metal roofing systems are beautiful and available in a range of colors and configurations to suit your architectural needs or budget. You can choose from various styles that look like ordinary roofing material including tile, asphalt, or shake.
Life expectancy : With proper installation, metal roofs in Florida easily outlast asphalt shingles in North East FL. The longevity of metal allows you to recoup up to 85.9% of your investment over the roof's life.

Energy efficient: ​ Metal roofing reflects and absorbs heat better than other materials, translating into lower cooling costs for decades.
Sustainable : Metal roofs are made from recycled materials. They can also be recycled completely at the end of their long service life rather than being disposed of into a landfill.
Light weight : Metal roofing weight is just a fraction of competing materials. This puts much less stress on the property.
Weather resistance: metal roofing systems with steel-proof panels can withstand inclement weather in Jacksonville Fl. Reliable and strong, metal roofs won't corrode and will protect your home against high winds, hail, snow and rain that often leads to corrosion. If within 1500 feet of brackish water Aluminum is highly recommended.
Low maintenance: Aside from being impenetrable to moisture, standing seam metal roofs require little maintenance, unlike other roofing materials. The only necessary task is removing leaves, twigs and debris, which is one once a year.
For energy efficiency & durable weather protection then choose a Metal Roofing Installation.
If you're in need of roof installation or replacement for your metal roofing panels, we can help you revamp your roof at an affordable price. We obtain the materials from our own sheet metal shop and can provide recommendations for siding contractors. We will provide you with a detailed breakdown of the cost and inform you about the necessary accessories and duration of the roofing process. Our team will efficiently and professionally complete the job. Contact Golden Hammer Roofing at (904) 880-2004 to receive a complimentary estimate for our services and book us for your upcoming roofing project.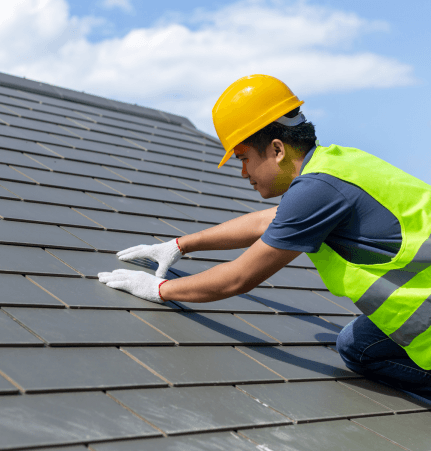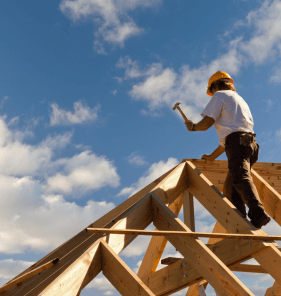 About Us
---
Serving Northeast Florida For Over 30 Years
As a homeowner or business owner in Jacksonville, FL, you are well-aware of how important it is to maintain the integrity of your roof and ensure that any issues are taken care of right away.
The roof of your building in Northeast Florida is one of the most important barriers between the outside elements and your family, belongings, employees, and products. Whether you need simple roof maintenance, roof replacements, or roofing repairs, be sure to contact one of the best Jacksonville roofing contractors available – Golden Hammer Roofing.
At Golden Hammer Roofing in Jacksonville, FL, we are one of the top residential and commercial roofing contractors in the area, and we truly care about our customers and providing them roofing excellence no matter what type of job or roofing project we complete.
Contact Our Full-Service Roofing Contractors for Roof Repairs , Maintenance, and More!
For homeowners and business owners located in Jacksonville, FL, who are in need of comprehensive roofing services such as repairs, maintenance, renovations, or new roof installations, we recommend reaching out to the experts at Golden Hammer Roofing. They specialize in providing top-notch roofing solutions in the Jacksonville area.
For more than a quarter century, we have been serving Jacksonville residents and businesses with the services they need on their roofs. Our team specializes in new roofs as well as repairs for roofs that are damaged. We are a veteran-owned business and are happy to help our customers with financing options, free estimates and inspections, and the highest quality roof-related services in Northern Florida.
During our free inspection of your roof, we will look closely and find any and all issues that we think may cause you trouble in the future. We know that you need your roof to provide stable protection from the sun, wind, and rain in Florida as well as keep your property looking as great as possible. When you need a top rated roofing contractor, the name you can count on in Jacksonville, FL, is Golden Hammer Roofing.
Call today to find out more about all of our residential and commercial services or to schedule your free inspection.